Have to tip the Penguins' helmet to owner Buker for assembling Central Red Army active roster for its record-setting performance last night. HUGE!!!
I knew last night CRA had a big score coming. Just didn't know how big. Now we all know it was FHL-record big.
(Edmonton head coach Todd McLellan, why aren't you listening to me??? Would really like Draisaitl to get moved back to the first line at even strength with McDavid and have Nugent-Hopkins moved down to another line!!!)
Lastly, below is an image of a game-used Central Red Army sweater from the 1993-94 Russian Elite League season. (At the time, the Elite League was top league in Russia. The top league is now the KHL.)
Note the main logo on the chest, which relegated the CRA logo to the upper left.
And the logo on the upper right, IC Premium Lager on top of blue triangle, is none other than Iron City Beer brewed in Pittsburgh, Pennsylvania, US of A. YO COMRADE!!! CHEERS!!!
Have no idea how a penguin and Iron City Beer got on the uniform of Central Red Army. There has to be a story. But no time now to look it up. Maybe someone in top management of CRA at the time was a fan of Mario Lemieux?
Lemieux was a right-handed shooter. Since the penguin on the uniform sweater is a left-handed shooter, more likely the guy was a fan of Jaromir Jagr or maybe German Titov. Both Jagr and Titov shot left-handed.
German Titov, a native of Russia, was a left wing who played for the Penguins in the NHL in 1998-99 and most of 1999-2000. He had 98 points in 135 games. Not bad.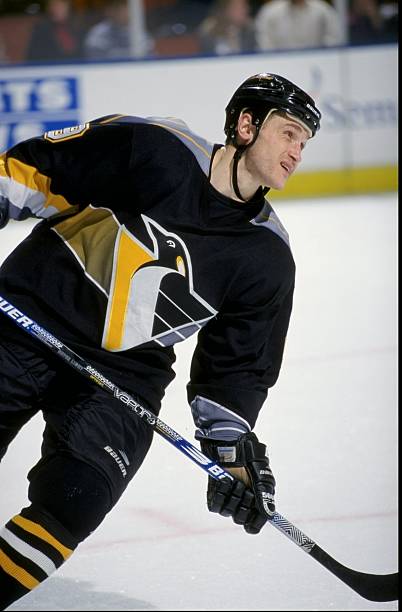 Titov also played in the NHL for Anaheim, Calgary, Edmonton and Toronto. In total, he had 413 points in 624 games. Again, not bad.
There was someone else of the same name (slightly different spelling) in Russia who was more famous than Titov the hockey player. He was Gherman Titov the cosmonaut, who, on August 6, 1961, became the second human being to orbit the earth.
Back to the performance of owner Buker's squad last night. No getting around the fact that it was out of this world. Am now lowering the tent on this circus.
Puck drop for tonight's early games is just under 5.5 hours away.