While yours truly will not tire of railing against Dustin Brown, there is good news coming out of the Los Angeles Kings re: LOBB (Little Old Badger Bob). And the good news also extends to the fact that it can happen to YOUR fantasy hockey team as well.
A player pulled from the free agent pool who was waived TWICE this season was not expected to add much offense. But he has over-achieved since pulling on a B2 sweater. Sometimes, it's better to be lucky than good.
And that's just what happened to B2 upon selecting D Jake Muzzin of Los Angeles from the free agent pool for the start of Period 16. He was inserted directly into the active lineup for two reasons. The top D for B2, Viktor Hedman of Tampa Bay, was put on IR. And the Kings had a favorable number of games in the week, the second of two in which NHL teams were getting a five-day break.
Period 16 started on Monday, January 15. And since then, Muzzin has played in six games and contributed 10 points to B2 -- two goals and four assists.
Truth be told, Muzzin has been on an extended heater. (There's no question that Muzzin won't continue to perform at this rate over the long haul. But B2 will ride the hot hand.)
Muzzin scored exactly one point in EVERY GAME he played in January. That's impressive. He played in eight games and had two goals and six assists.
The heater could be trumped up a bit to say that Muzzin has scored exactly one point in nine of his last 10 games. He had an assist in the penultimate game in December, on the 28th, a 3-2 OT loss to Las Vegas.
Then, and I have no idea how this could have occurred, the Canucks somehow kept Muzzin off the scoresheet on the 30th, the last game in December, a 4-3 win by Los Angeles in Vancouver.
I will say that Muzzin's heater has been helped by production on the power play. He currently is playing the left point on the top power-play unit, with D Drew Doughty on the right point and the front line consisting of F Tyler Toffoli, F Anze Kopitar and...AWW JEEZ...F Dustin Brown.
OK, that threw me off kilter a bit.
This is the second time I have "owned" Jake Muzzin. The first time was a major flop.
A few seasons back, I drafted Muzzin as a "depth" D in a league that plays five active D each week. Muzzin was in my starting lineup in the first period by rule since there are two distinct parts of the draft.
There is competitive bidding for the players taken in the first part of the draft. These players are active in Period 1.
There is not competitive bidding for the players taken in the second part of the draft. Snake draft and these players are reserve in Period 1.
After being active in Period 1, I moved Muzzin to reserve for Period 2. Due to his lack of production even in categories such as hits and blocked shots, he did not make it back into the starting lineup before being waived a few periods later. If I am not mistaken, he sat in the free agent pool for the rest of the season.
Let me wrap up by saying that YOUR fantasy team can strike gold on the waiver wire and/or in the free agent pool.
As Chico Escuela (portrayed by Garrett Morris on "Saturday Night Live" in the photo below) would say, "the waiver wire and free agent pool been berry, berry good to me."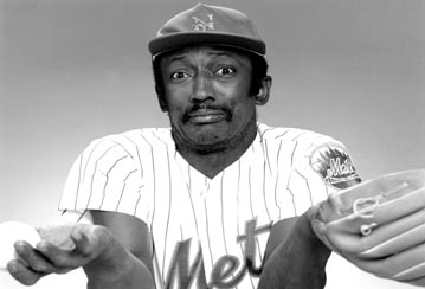 For B2 this season, the free agent pool has been the source of F Josh Bailey of the Long Islanders, G Connor Hellebuyck of Winnipeg and W Reilly Smith of Las Vegas directly from the free agent pool. By that I mean it does not look like they were waived at any point.
In addition to Muzzin, one other B2 player has made an appearance on the waiver wire -- D Colton Parayko of St. Louis.
I think I finally have put behind me the terrible decision I made early last season to waive Columbus F Cam Atkinson early. I went back and looked in the archives. I started Atkinson in Period 1 and waived him after that.
Atkinson went on to have a career season, topping 30 goals. This was GOLD for THE BLULINERS, who got Atkinson for Period 3.
B2 out.