BIG THANK YOU to Bluliners for answering the Blu Signal.
Hey, there may not have been a Leon if it has escaped both you and I.
I did think overnight of Toronto D Leo Komarov. Close but no cigar.
I also thought of former NHL linesman LEON Stickle. Even closer but still no cigar.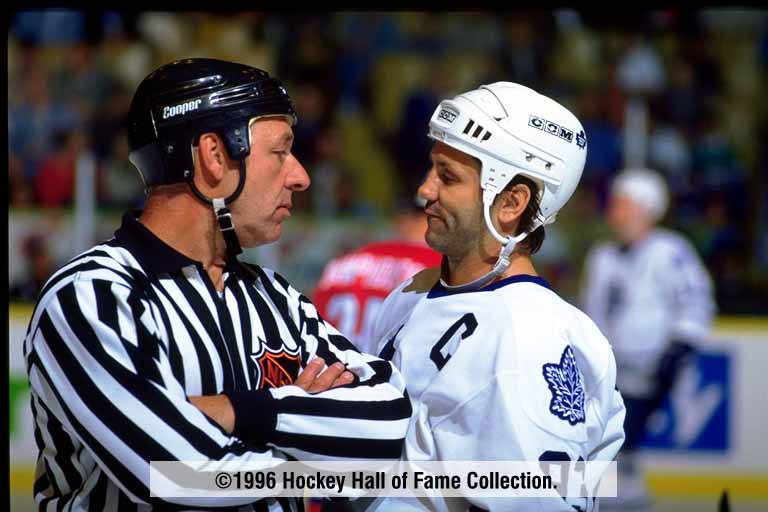 (Exercise your hockey gray matter. Who is the player in the photo with Stickle?)
Stickle had a long, distinguished career. Sadly, he is most remembered for blown offside call in 1980 finals at Nassau Coliseum that led to a goal that helped Islanders win Game 6 and clinch their first Stanley Cup, defeating Thugs on Skates.
Islanders ended up winning the decisive game 5-4 in first overtime. But without the blown call, may not have been an overtime and the series may have gone to a Game 7 back in Filthy Delphia.
Hmm, Thugs on Skates lost. Maybe I'm kinda glad Stickle made a no call. NAH. Back then I hated the Islanders just as much.
Leon Stickle blown offside call.
# # #
Speaking of cigars, a big CONGRATS in advance to Between the Pipes and Mrs. BTP since mulling youngster name.
I can offer four to choose from. My full name: JOHN STEPHEN CHESTER JR. (Junior is a first name. Thinking of the GREAT NASCAR driver and former moonshine runner Junior Johnson.) Badger Bob would be honored if any of these names is selected.
# # #
Lastly but clearly of GREAT importance, Bluliners wearing #16 Whalers jersey HUGE!!! Pat Verbeek???